UNICEF and partners step up support to provide urgent life-saving assistance for over 200,000 people – including 80,000 children – in dire need of help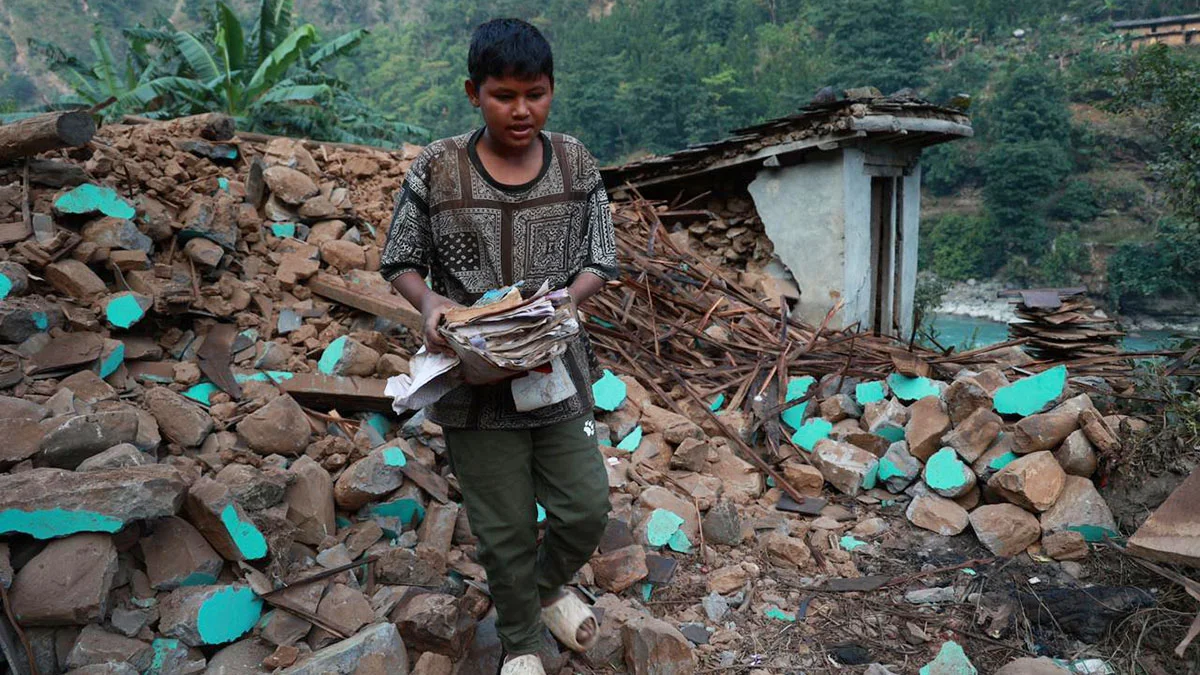 Almost half of those reported killed and injured in Nepal's recent earthquake are children. The 6.4 earthquake that struck remote parts of western Nepal on 3 November has claimed 153 lives and injured more than 338 people so far, according to local authorities. 
The earthquake took place while people were sleeping at night, triggering a high number of casualties. An estimated 200,000 people, including over 80,000 children are affected in Jajarkot and Rukum West, the two most affected districts. In addition, a 5.8 magnitude aftershock occurred in Jajarkot District yesterday. With continued aftershocks in the affected areas, children and families are living in constant fear.
Most homes have been damaged, along with schools, health centres and other infrastructure. The latest disaster is the largest earthquake in Nepal since two earthquakes in 2015 took the lives of nearly 9,000 people, a third of whom were children.  
"Tragically, and yet again, so many lives have been lost in this devastating earthquake. Children are disproportionately affected and are forced to spend the nights out in the cold. These children and their families are in desperate need of medical support, shelter, safe drinking water, food, blankets, and warm clothes as the winter sets in," said Alice Akunga, UNICEF Representative to Nepal. "UNICEF is doing everything possible, but we urgently need more help to respond to the needs of children and women in health, nutrition, education, protection, and water, sanitation and hygiene."
UNICEF is working with authorities and partners to respond to the urgent needs of affected children and families. Within two days of the earthquake, UNICEF has distributed emergency supplies to 2,000 families in Jajarkot's Bheri and Nalgad municipalities, including hygiene kits, buckets, mugs and water purifiers, as well as tarpaulins and blankets. Further, two medical tents have been set up in Nalgad municipality for resumption of health services.
Additional supplies, including 667 sets of WASH supplies have reached Rukum West while 3,000 tarpaulins and blankets, as well as two medical tents have been dispatched to the affected areas. 
The earthquake happened in one of the areas with high poverty levels in Nepal, further making the families even more vulnerable. The damage to school buildings is likely to impact the learning of thousands of children. Health centres have also been severely hit, which has slowed down critical health checkups, vaccinations and treatment for newborns, pregnant women and young children. 
UNICEF continues to work round the clock on the ground to support the response efforts and reach the most vulnerable children during this difficult time of need.